Selma Blair Wrote Through The Pain
Penning her memoir was strenuous, both physically and emotionally.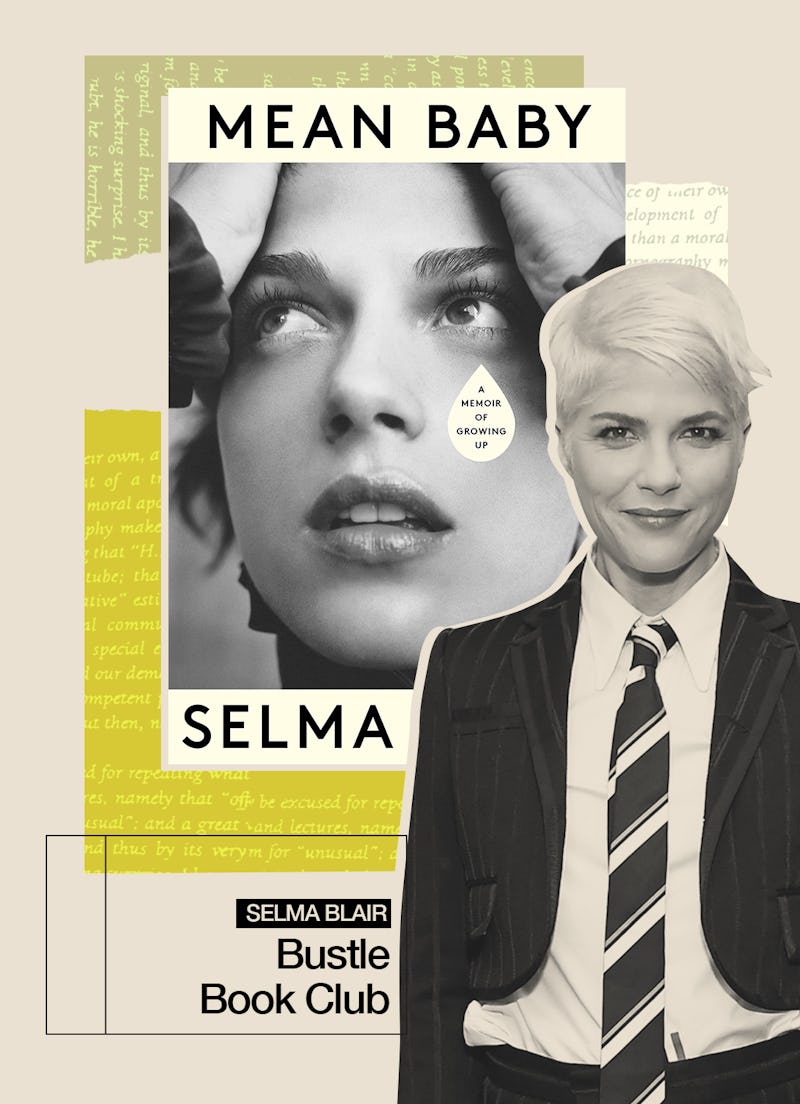 Charley Gallay/Getty Images
Much has been made of Selma Blair's fortitude. Her unparalleled persistence always comes through, whether she's speaking out about living with multiple sclerosis or laying bare her experience of alcoholism — and never more so than in her debut memoir, Mean Baby, which recounts both of those battles. But the greatest testament to Blair's grit may be the physical resilience required to write the book in the first place. "I never did take into account that this would be written in a time when the things I took for granted — like vision and using my hands in tandem on a computer screen — would give me a very triggering and traumatic headspace because my body was so out of sorts in that period," Blair tells Bustle. It made the times when she could sit down with pen and paper feel all the more urgent. "They were just things I didn't expect, which freed up some space when I did get to the page. Like, 'I better just really get to the heart of the matter.'"
As arduous as the physical writing process was, exorcising such private, painful moments also took its toll. Unlike many celebrity memoirs, which can read as vanity projects, Mean Baby is unflinching: Blair confronts her history of sexual assault, divorce, loneliness, and violence. She strove for honesty, for total transparency. "I recalled reading Ellen Burstyn's Lessons in Becoming Myself. I couldn't believe how real she was. She spoke of domestic violence, addictions, her life," Blair says of one of her many literary inspirations. "It was the Rolodex of her memories. I couldn't believe that a public figure could be so generous."
Readers of Mean Baby will also be grateful for Blair's generosity — but Blair insists she's the one who's benefited most. "It feels good to finally be unburdened by something, so that it doesn't have to take up any more space in the plasticity of your brain. It can go down on the page and be transmitted — and to me that is the celebration," she says.
Below, Blair reflects on her writing habits, her love of getting dolled up, and what she's reading now.
On rediscovering the joy of reading:
Right now I'm reading I'll Show Myself Out by Jessi Klein, who's an amazing author, writer, and stand-up. I've been in a very sleepy headspace, but [I'm] now waking up and finding these incredible writers that I will cherish and laugh with. I just reread The Girl Who Smiled Beads by Clemantine Wamariya. It's a story of war and what comes after. She was a refugee and had to leave and come here, and it was just such an incredible book that I had to seek her out. We became friends, [she's an] incredible writer.
On dressing the part:
I wrote this in a kind of sloppy time for my body. I'd be lucky if I could just wash my face, find a spot with a pen and paper, get on the page, and clear that space in my head. But now that I'm doing better, I do like to get dolled up and feel like I'm having a day at work and go down to write. I mean, who knows when that will happen, but it's coming.
On refueling with books:
I'm not a real snacker, and since I don't drink alcohol, I'm not much of a drinker. So the snacks and drinks were the books I put around me.
On writing anywhere and everywhere:
I wrote this book in bed, in the closet, sitting on the floor in front of the fireplace. I wrote this book on my iPhone. I wrote this book on a yellow legal pad. Sometimes talking when my hands weren't working well. But no matter how difficult it got, I would just keep going. Whether it was a doodle or words.
This interview has been edited and condensed for clarity.