The Bachelorette's Tino Is Dividing Fans Over His Reaction To Rachel's Group Rose Choice
While he might not have snagged the first rose, Tino did catch the big cheese.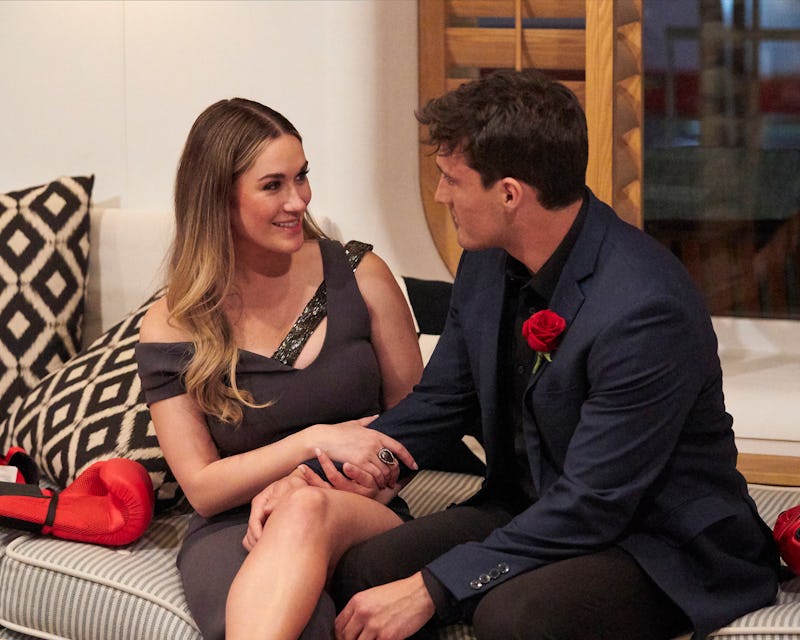 ABC/Craig Sjodin
With hometowns right around the corner on The Bachelorette, co-lead Rachel Recchia had some tough decisions to make in the Aug. 15 episode. Though contestant Tino Franco had already cemented his place as one of Rachel's frontrunners by sealing their first one-on-one date in Paris with a kiss — in front of the glimmering Eiffel Tower, no less — he hit a bit of a backslide when the group traveled to Amsterdam.
After Zach Shallcross scored his second one-on-one date with Rachel, Tino had his first "cry baby" moment of the episode, as one viewer called it on Twitter. Upset that the "stupid [date] card" wasn't addressed to him, Tino announced that he was headed to the gym because he "had some pouting to do." While one user tweeted that he was giving "Yosef vibes," referencing the villain of Clare Crawley's season, a Tino supporter noted that he "JUST got a one-on-one" and had nothing to worry about.
Later, Rachel tested the strength of her remaining contestants' love with a cheesy weightlifting competition group date. While exploring Edam, aka the cheese capital of the world, he competed with Aven, Tyler, and Ethan, in a shirtless cheese-lifting contest, earning Tino the title of Cheese King, along with a congratulatory kiss from Rachel. Despite the win, some viewers were still getting "bad vibes" from Tino.
During some one-on-one time at the after-party, Rachel and Tino discussed the prospect of her meeting his family during Hometowns, while the general contractor assured her he hadn't had a doubt in weeks. Bragging in an interview that he "totally hit it out of the park" during their conversation, Tino told the cameras that he was fully expecting to win Rachel's "very important" group date rose.
But when Rachel eventually awarded the rose to Tyler, Tino had some more pouting to do. Explaining he was "at a loss" for words, he insisted that he'd "crushed" the entire day and couldn't understand why we didn't get the rose. As he continued to spiral and "second guess everything," Ethan finally delivered the line everyone had been waiting for: "Tino's acting like a baby back b*tch," a reference to 2005's The Longest Yard.
Afterward, Tino apologized to Ethan for walking off early and leaving the other guys alone. Even so, he continued to feel blindsided by Tyler winning over him. Unsure if Rachel would be meeting his family, he explained that it felt like a "huge step backwards" in their relationship. On Twitter, some fans didn't take too kindly to Tino's "need for validation and praise 100% of the time," while others reasoned that he was just disappointed and acting accordingly. Others compared Tino to Greg Grippo from Katie Thurston's Bachelorette season.
It all worked out though: Tino, Zach, and Aven earned spots in Rachel's final four, as Ethan was sent home one week before Hometowns. So even if some fear he is "entering his villain" era, Tino got his rose in the end and will get to "show off the most amazing lady of all time" to his family next week on The Bachelorette.