Crescent Bags Are All The Rage Right Now
The lunar-inspired trend is one worth shopping.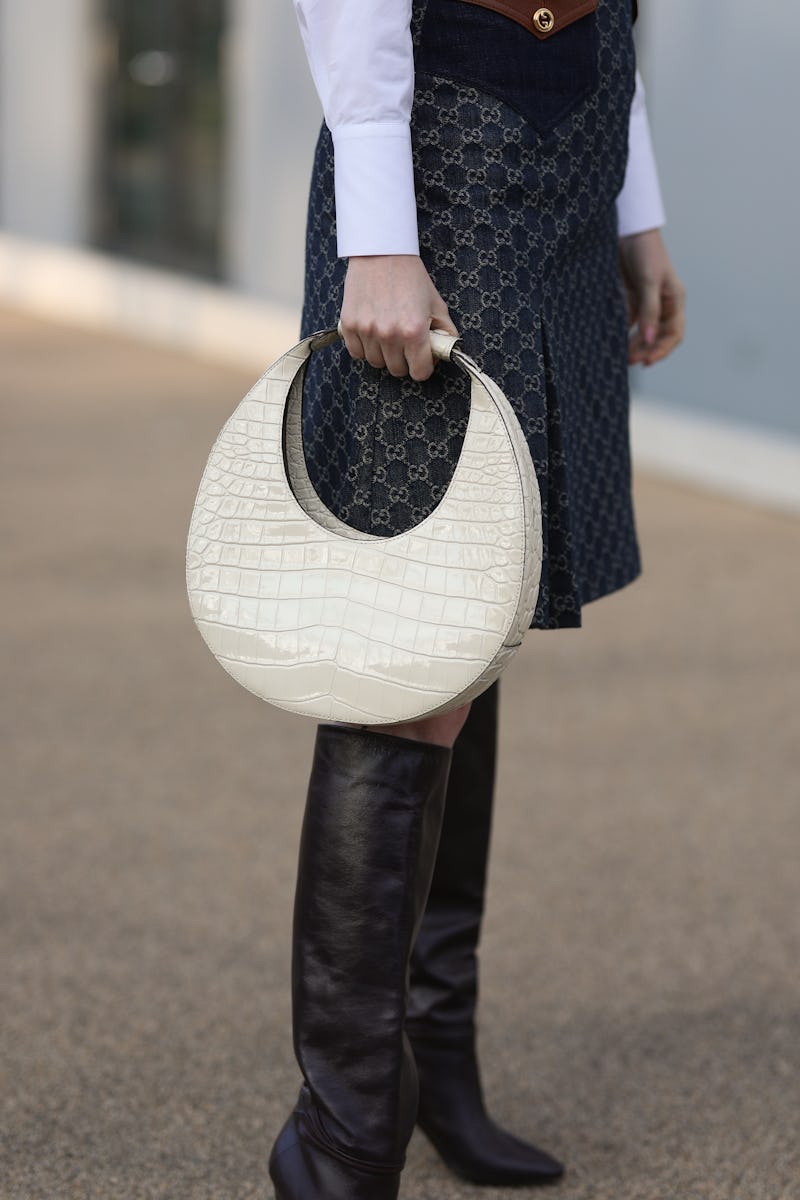 Jeremy Moeller/Getty Images Entertainment/Getty Images
Perhaps you stumbled upon this story at random, but there's a good chance that you Googled 'crescent bags' due to their raging popularity at this very moment. From the streets to social media, these sliver-shaped bags have been ubiquitous this summer — everywhere you turn, it seems there's a new one hanging from the shoulders of your favorite models, celebs, and influencers.
The fashion world has seen this lunar-inspired bag evolve over time. Of course, there was Fendi's original logo-covered iteration, which they dubbed the Croissant in the late '90s and has since been done in a myriad of colors, patterns and materials. And I'd be lying if I said I wasn't hoping to snag this Dior by John Galliano crescent bag for myself before it sold.
More recently, Staud's structured Moon bag made major waves when it dropped in 2019. And now in 2022, we have Celine's chic Ava, Loewe's curvy Luna, Gucci's GG Marmont half-moon-shaped mini bag and Louis Vuitton's monogrammed Loop bag.
One can consider the unique crescent shape an amalgamation of your classic hobo and shoulder bags, a palette cleanser as mini bags fade away and larger totes slowly creep back into relevancy. Either way, these bags are everywhere at the moment, and no two are exactly the same. Some are true crescents, no bigger than a sliver, while others are more of a half-moon shape.
I can hardly say I'm shocked that crescent bags have made a comeback, seeing as Gen-Z and millennials are obsessed with any and all Y2K trends (See low-rise jeans, baby tees, trucker hats, and chunky Avril-inspired skater shoes). The early aughts have a major say in what trends reign supreme in 2022, especially when it comes to accessories.
With that, let's get you a crescent bag. In the interest of finding you the perfect bag, I've selected 25 options, spanning a range of different designs and pricepoints. From a $20 deal on a pink ruched pick by Collection 18, to the Staud staple you can wear forever, keep scrolling to pick your favorite.
We may receive a portion of sales if you purchase a product through a link in this article.