Brooke Shields Has An Equally Relaxing Alternative To Meditation
The actor and model shares her wellness routine.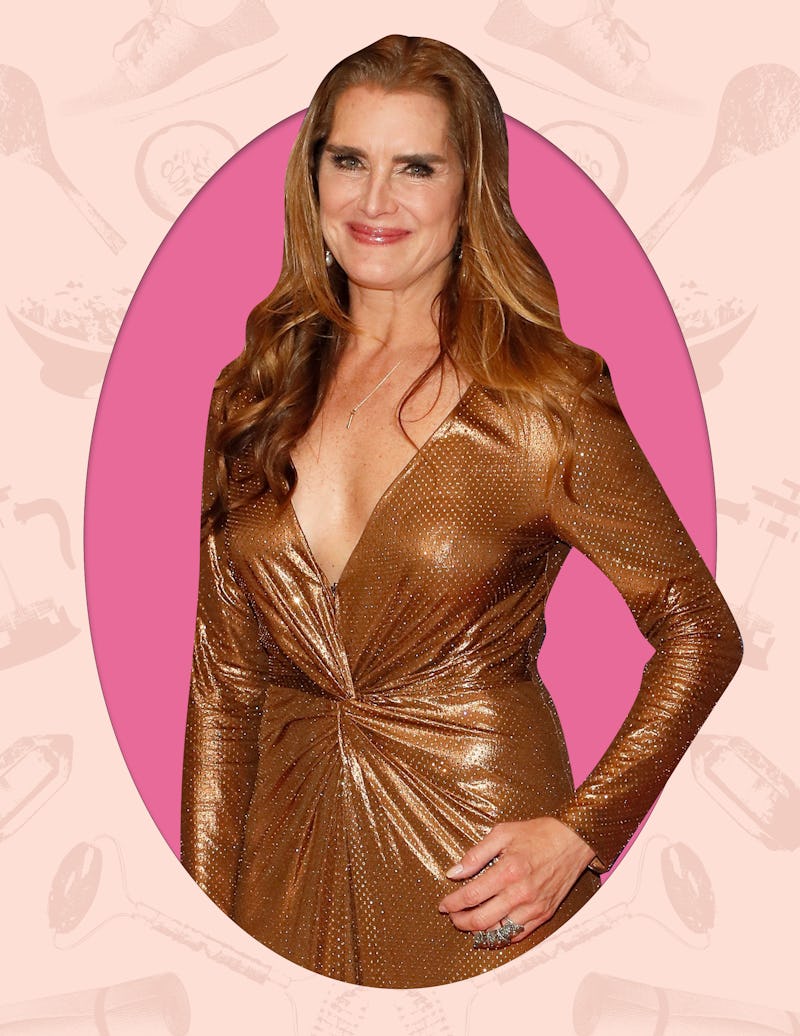 Paul Morigi/Getty Images
In Chill Chat, Bustle sits down with stars to chat about all things wellness, from their favorite skin care products to their hacks for getting a good night's sleep. Here, Brooke Shields shares her morning routine, relaxation tips, and beauty buys she uses nonstop.
Brooke Shields has been an icon since the 1980s — and the actor, model, and True Botanicals ambassador is just as booked and busy as ever. "I just got off a red eye this morning from Las Vegas," she tells me over the phone. "More often than not, I'm finding myself having schedules where I fly into one place, do something, then just take the red eye back out — and it's [hectic.] It's all a hustle," she adds, laughing.
Besides building Beginning Is Now, which Shields describes as a "360-degree wellbeing platform for women over 40," constant work is the reason behind her nonstop flights. "I've been traveling so much, and my skin is so dehydrated that I've just been going through [the True Botanicals Moisture Lock Overnight Mask] by the gallon," she says. And though she loves her beauty products, Shields has navigated the (notoriously ageist) world of Hollywood for more than four decades without losing her sense of self.
Below, Shields, 57, shares more about her daily rituals, importance of trusting her gut, and more.
What does your morning routine look like?
Just the word "routine" would make me happy. If I were to have a routine, I would say that I started taking baths when I [was recently filming a movie] in Scotland. I [was surprised] that if you take the right kind of bath, it's invigorating but relaxing at the same time. I don't start the day as stressed. I like having my tea, reading my newspaper, and being up before the craziness of the house starts.
When stressful situations arise, what are some things that help you cope in the moment?
I'm starting to meditate a little bit. I know that once I get into it, I will be — at least partially — a convert. I'm so "multi-scheduled" through out every day, with [this business] and certain obligations I have to different companies that I'm working with.
I just finished a movie, and we were working [long] hours, but I just did needlepoint. In the midst of everything, I could do this relaxing [repetitive hand-eye movement.] When I bake, sometimes that's very relaxing to me too. I'm finding other ways to meditate to get myself ready to really learn how to meditate.
There are rumors that you're vegan. I imagine constant traveling can make veganism more difficult.
I don't know where that came from! I literally eat everything. I would love to say I'm all these things, because I think it's cool if you're really committed to it and you believe in it, and I am sure I would feel better. I'm sure I would have less bloat.
Even just vegetarianism would be a good thing. I just try to [be balanced]. If I'm craving iron and I haven't had a lot of meat in a while, then I'll listen to my body more so than anything else. Anything that's too extreme doesn't usually work well with me.
What drew you toward True Botanicals?
I loved meeting [the True Botanical team.] I love women-run and women-owned [companies] and True Botanicals' whole approach. When I started really getting into the actual smells, textures, and different benefits, I was so impressed with them as a company and fell in love with — and didn't feel overwhelmed by — their [regimen].
And you recently started a new venture: Beginning Is Now. Can you tell me about its creation?
I was lamenting to a friend of mine how "un-marketed" to we are as a demographic. There's this whole bracket of very vibrant women who have so much to offer, have such vitality, and are starting new chapters. Their kids are leaving the nest, they're deciding what they want to do with their lives, and yet, we go to look for our community and it's not available to us.
I said to my friend, "I feel like the 'beginning' for me is now. All the other things I've done have either been because of society, a biological clock, pressure from family, or any number of things. This is the first time I'm looking at what I want my life to look like." That type of approach really led me to talk to more people, build a community, and it's progressed very quickly.
This interview has been edited and condensed for clarity.